D700 Duo Automatic Value and Counterfeit Bill Detector
Regular price
$599.99 USD
Regular price
Sale price
$599.99 USD
Unit price
per
The D700 | Duo Automatic Value and Counterfeit Bill Detector is the perfect solution for high-capacity counterfeit detection with 8 counterfeit and security features. The D700 Duo safeguards your hard-earned cash from threats while providing mixed value counting for USD & EUR.
Its easy-to-use LCD screen and audiovisual notifications make this an intuitive and user-friendly model. Not to mention, it's multi-directional/multi-orientation feature allows you to insert bills in any direction.
Its compact size, light weight, and optional rechargeable battery make this model easily portable, so you can take it and use it anywhere.
Share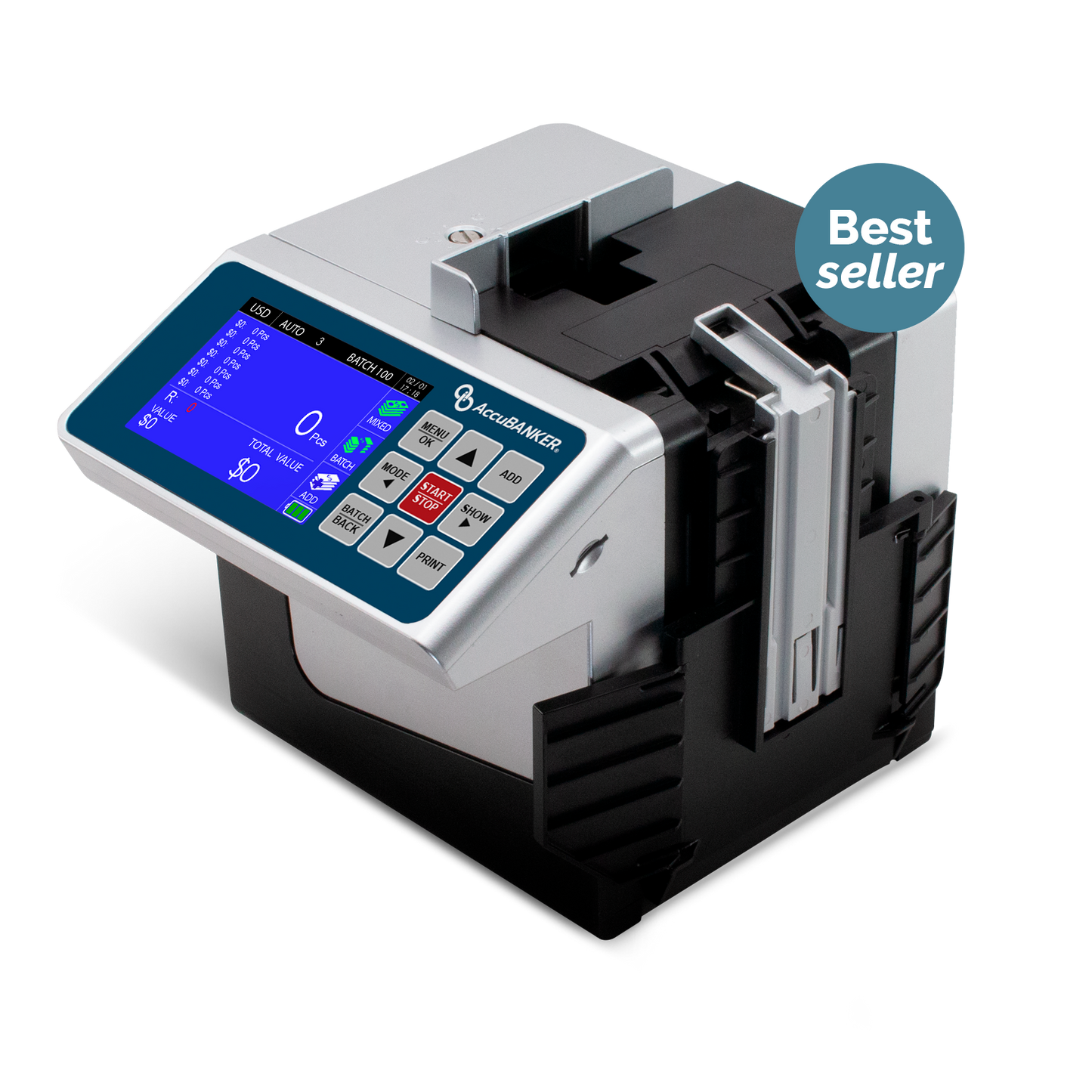 ---
Core 4 Features
8 counterfeit detection methods with 2 preprogrammed currencies (USD & EUR)
Lightweight detector and mixed value counter with optional rechargeable battery for increased portability
Recognizes & adds by denomination to provide totals for each bill counted
Multi-orientation / multi-directional automatic feeding system up to 250 bills per minute!
---
---
Saves Time & Labor Cost
Your time is valuable, using our products makes spotting counterfeits faster and easier giving you the opportunity to get other tasks done.
Reduces Human Error
Counterfeits can often go undetected, ultimately affecting your bottom line. Reduce human errors by using our detectors to scan bills for you.
Fast & Accurate
Be confident in detecting counterfeits with immediate high-speed verification saving you time and effort.
High Performance & Efficiency
Automatically verify bills against several counterfeit detection methods all in under one second.
8 Counterfeit Detection Features
- Ultraviolet (UV)
- Watermark (WM)
- Magnetic Ink (MG)
- Magnetic Thread (MT)
- Infrared (IR)
- Dimension Detection (DD)
- Image (IMG)
- Color Spectrum (CS)
Eight counterfeit detection methods: Ultraviolet (UV), Watermark (WM), Magnetic Ink (MG), Magnetic Thread (MT), Infrared (IR), Dimension Detection (DD), Image (IMG), and Color Spectrum (CS)
High-capacity counterfeit detector designed with the most advanced software and hardware technology
Multi-orientation feeding system allows bills to be inserted in any direction 
Easy top-loading high capacity detector with value counting
Validate, count, and sort mixed denominations of bills
Captures & Reports bill denominations in any of four bill positions
Detailed reporting of bill detection and count
Can be connected to our receipt printer to get a detailed breakdown report for total denominations and total of pieces
Processing speeds of up to 250 bills per minute 
Hopper Capacity of up to 100 bills
Stacker capacity of up to 100 bills
Easy-to-use control panel with large high-resolution LCD display
Three operational modes:
MIX: operating mode can be used to verify and count bills with different denominations
SORT: operating mode can be used to verify and count bills with the same denomination and reject any bills mixed with different denomination
COUNT: operating mode can be used for a simple count of other currencies not programed
Preprogrammed Currencies (Sheet Counting): Universal
Preprogrammed Currencies (Denomination Detection): USD & EUR
Compatible with paper & polymer bills
Bill dimensions accepted: 3.38 x 6.14 in (8.58 x 15.60 cm)
For reselling, wholesale, or bulk buyers contact us for information on additional programmable currencies
Dual Voltage: 100 - 240 VAC 60/50 Hz
Auto-diagnostic system procedure
Saves time and labor costs  
Reduces losses due to human error  
Compact
Easy maintenance
Portable with Rechargeable Lithium Battery 11.1V 2.6 A (Optional)
Compatible with MP20 Printer (Optional Sold Separately)
Compatible with Worry Free Counter and Detector Kits (Optional Sold Separately)
Easy to use
Reliable and sturdy
Easy to update software for new currency releases
Appreciate the size
I can take it to shows or use in the store. It's a counter and detector all in one. Very convinient.
You may also like
Regular price

Sale price

$99.99 USD

Unit price

per

Core 4 Features:

5 counterfeit detection methods
Automatic detection in under a second
Audiovisual pass or fail notification
Compact & easy to use

Regular price

From $119.99 USD

Regular price

Sale price

From $119.99 USD

Unit price

per

Core 4 Features:

7 counterfeit detection methods
Lightweight detector with optional rechargeable battery for increased portability
Audiovisual pass or fail notification
Multi-orientation / multi-directional automatic feeding system

Regular price

$139.99 USD

Regular price

Sale price

$139.99 USD

Unit price

per

Core 4 Features:

5 counterfeit detection methods
Automatic detection in under a second
Recognizes & adds by denomination to provide totals for each bill counted
Audiovisual notification